Taco Bell Burrito Wrapper Blanket
After a late night of partying and a satisfying Fourth Meal from Taco Bell, wrap yourself up like a burrito inside this cool new Taco Bell Burrito Wrapper Blanket. While it may look like a massive five foot tall Taco Bell wrapper, its plush microfiber fleece design is much less crinkly than the real thing. It's the perfect gift for any Taco Bell fan and pairs perfectly with the equally hilarious Giant Tortilla Burrito Blanket.
As an Amazon Associate I earn from qualifying purchases. When you buy through links on this site, I may earn a small affiliate commission.
Learn More
Related Offers From Etsy.com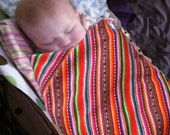 Features
Ultra-Plush sheared microfiber polyester Tahoe fleece
Edge to edge sublimation
Size: 50" x 60"