Octopus Backpack
When you enter a room and everyone turns to check you out, they're probably more interested in this cool new Octopus Backpack you're wearing. This handmade leather backpack is shaped like an octopus who has escaped the murky depths to ride around on your back and help carry some of your stuff instead. It features a zipper closure on top of its bulbous head, is lined on the inner storage compartment, has an adjustable shoulder strap, and is available in black, blue, yellow, orange, and pink.
As an Amazon Associate we earn from qualifying purchases. When you buy through links on this site, we may earn an affiliate commission.
Related Offers From Etsy.com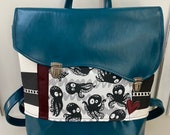 Features
Octopus backpack handmade from leather
Various colors available: black, blue, yellow, orange, pink
Adjustable shoulder strap up to 50"
Zipper closure
Bag is lined
Size: 15.8" x 11.8" x 7.8"
Subscribe To Our Cool Newsletter! 😎
Get all the latest cool new stuff, cool news, and more delivered right to your inbox daily!