Uplift 2.0 - Hypnotic Solar-Powered Spiralling Kinetic Sculpture
Is the world totally stressing you out? Unwind, lift your spirits, and mesmerize your mind when you gaze upon and interact with this cool new Uplift 2.0 from designer Tom Lawton. This hypnotic solar-powered kinetic sculpture features a stunning aquamarine spiral made from reclaimed fishing nets that seems to spin endlessly beneath a borosilicate glass dome. Just place it in a sunny spot and it automatically starts spinning and you can easily change the direction of the spinning spiral with just a wave of the included magnetic wand. Makes a great gift for the home or office for anyone stressed out, anxious, bored, or just looking for truly interesting moving decor. Check out this VIDEO to see it in action.
Disclosure: When you buy through links on this site, we may earn an affiliate commission. As an Amazon Associate we earn from qualifying purchases.
Learn More
Related Offers From Etsy.com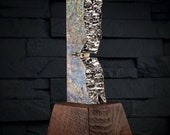 Features
Designer: Tom Lawton
Solar-powered kinetic sculpture appears to endlessly unwind as it spins
A mesmerizing, never-ending spiral that inspires you to unwind
Gracefully turns the sun's power into a hypnotic flowing motion
Automatically starts to spin as the sun rises and slowly winds down as it sets
Each spiraling display is consciously crafted from recycled marine waste
Spirals are manufactured with 100% purified waste fishing nets sourced from the Hake Fisheries in Cornwall
The spiral can turn freely in either direction
Choose which way it turns by interacting with the spiral using the included magnetic wand
Housed inside a handblown borosilicate glass dome
Loves a sunny window sill but still works well under an overcast sky
Materials: borosilicate glass, solar panel, neodymium magnets, hardwood Base, reclaimed fishing nets
Size: 12.75" H x 4.25" W