Handmade Curved Wooden Bookshelves
When you gaze upon these cool new Curved Wooden Bookshelves from WoodCurve, you may worry that you drank the Wonderland potion, are dreaming through a Seussian nightmare, or were spun off to the land of OZ by a tornado, but nope, they're just double-take-inducing whimsical bookshelves for storing your favorite fairy tales, spell books, fables, nursery rhymes, and more. These truly magical handmade shelves are available in various styles, heights, stains, and colors to compliment your other decor from the real world. Perfect for a kid's room, a cottage den, a witch's kitchen, or magic castles of all kinds.
As an Amazon Associate we earn from qualifying purchases. When you buy through links on this site, we may earn an affiliate commission.
Related Offers From Etsy.com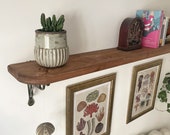 Subscribe To Our Cool Newsletter! 😎
Get all the latest cool new stuff, cool news, and more delivered right to your inbox daily!