Musical Xylophone Porch Swing
This cool new Musical Porch Swing combines a relaxing outdoor swinging bench and a xylophone like seat with a musical row of wooden bars that can actually played with the included mallets. The swing is handcrafted in Portland, Oregon from Western red cedar, has stainless steel hardware, and it's seat / functional percussion instrument is hand-tuned to the key of C. Check out this VIDEO to see it in action.
Disclosure: When you buy through links on this site, we may earn an affiliate commission. As an Amazon Associate we earn from qualifying purchases.
Learn More
Related Offers From Etsy.com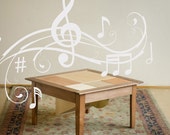 Features
This warmly melodic outdoor porch swing is perfect for the musically inclined daydreamer
Hand tuned to the key of "C" with the tropical sounds of a marimba
Western Red Cedar and stainless steel hardware
Finished with numerous coats of an oil-based outdoor finish
Stainless steel hardware
Easy to play
Mallets included
Swings with the provided chains
Handmade in Portland, Oregon USA
Size: 60" x 37" x 24"