Hand-Forged Steel Roses
Nothing says love better than handing your loved one a blackened cold steel rose, but these cool new Hand-Forged Steel Roses will stand the test of time - just like your love (optimistically speaking). Completely hand-forged in Finland from steel without the use of molds or specific measurements, each rose is one-of-a-kind and uniquely beautiful. Start with one rose and grow a whole bouquet by adding one bloom at a time. Each of these roses has a 200 year withering guarantee, unlike the real thing.
When you buy through links on this site, we may earn an affiliate commission. As an Amazon Associate we earn from qualifying purchases.
Related Offers From Etsy.com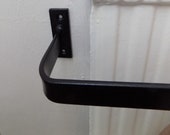 Features
Made from hand forged steel
Dipped in beeswax
Made in Finland
Subscribe To Our Newsletter! 😎
Get all the latest cool new stuff, cool news, and more delivered to your inbox daily!