Railroad Tracks Coffee Table
If you're an avid trainspotter in need of a truly epic coffee table, then check out this cool new Sleepers Three Timbers Coffee Table from RailYard Studios. This stunning coffee table brings a section of railway into your living room with untreated heavy wood timber railroad ties, authentic salvaged steel rails to hold up the glass tabletop, and matching stones in between the beams to complete the look. Each table is individually numbered and includes an authentic date nail scavenged from the rail bed and a signed certificate. Now if you hear "Clickety-Clack" and "Woooh! Woooh!" sounds... run, because the table may have attracted a ghost train!
When you buy through links on this site, we may earn an affiliate commission. As an Amazon Associate we earn from qualifying purchases.
Related Offers From Etsy.com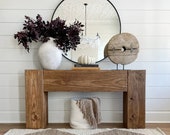 Features
Rail Yard Studios uses reclaimed materials salvaged from historic railroad lines
Heavy wood timbers (untreated) combine with authentic salvaged steel rails to make LEED certification attainable.
It's the perfect fit for any project in a renovated industrial area
Individually numbered with an authentic date nail scavenged from the railbeds
Accompanied by a signed certificate providing the provenance of the piece
Color: Whiskey
Materials: Steel, wood, granite stone rock and glass
Individual wear and characteristic features inherent in the service-worn materials provide each piece with its own personality
Made in the USA
Size: 54" L x 54" D x 18" H
Subscribe To Our Daily Newsletter! 😎
Get all the latest cool new stuff, cool news, and more delivered to your inbox daily!