Happy Turkey - Thanksgiving Coloring Paper Placemats
This Thanksgiving, give the kid's table something to do and maybe even distract the adults from arguing about politics for a few minutes with these cool new Happy Turkey Paper Placemats. These paper placements feature a whimsical turkey that can be colored in with crayons and allows everyone to write in what they're thankful for this Thanksgiving. They come in a set of 12.
When you buy through links on this site, we may earn an affiliate commission. As an Amazon Associate we earn from qualifying purchases.
Related Offers From Etsy.com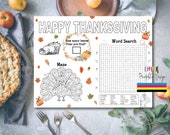 Features
Set of 12
Printed with ready-to-color outlines of an artful turkey and the open-ended phrase "I am thankful for.."
These paper placemats let guests express their gratitude as well as their creative spirit
Kraft paper with 15% recycled material
One-time use
Made in USA
Size: 16" W x 11.75" D x 0.25" H
Subscribe To Our Cool New Newsletter! 😎
Get all the latest cool new stuff, cool news, and more delivered to your inbox daily!