Manzanita Air Plant Wreath
The cool new Manzanita Air Plant Wreath entwines twisty manzanita branches hand-harvested from central Oregon, green moss, and an airplant bow for a unique take on decorative door wreaths.
As an Amazon Associate I earn from qualifying purchases. When you buy through links on this site, I may earn a small affiliate commission.
Learn More
Related Offers From Etsy.com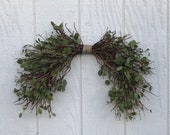 Features
Manzanita branches are filled with green moss and accented with an airplant bow
Hand-harvested manzanita branches from Central Oregon
Size: 18" Diameter