Silver Jingle Bells Wreath
If you love the shimmering and merry jingling of silver bells, sleigh bells, and jingle bells during the holiday season, then check out this cool new Silver Jingle Bells Wreath, because it's all bells! Covered in countless miniature silver bells of all sizes and adorned with a bright red grosgrain ribbon bow, this festive door wreath is perfect for audibly announcing the arrival of holiday visitors... naughty and nice. Yep, it's also great for home security too!
As an Amazon Associate I earn from qualifying purchases. When you buy through links on this site, I may earn a small affiliate commission.
Learn More
Related Offers From Etsy.com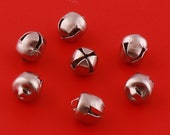 Features
Shimmering silver wreath is adorned with miniature sleigh bells that jingle as you open the door, heralding the arrival of holiday visitors
Evokes the merry tradition of journeying through snow-covered countryside to share good times with family and friends
Grosgrain ribbon makes it easy to hang above the mantel, on a wall or over a protected front door
Crafted using silvery bells in a variety of sizes
Hang indoors or in a sheltered outdoor area protected from weather
Size: 16" Diameter - 3 lbs