Petrified Wood Serving Board
At your next soiree, serve up gourmet cheeses and other appetizers to your distinguished guests in dramatic style using this cool new yet quite prehistoric Petrified Wood Serving Board. This ancient serving platter is artisan-crafted from a sliced and polished natural petrified wood slab that is supported atop wrought iron legs. No two are exactly alike and it comes in two sizes.
When you buy through links on this site, we may earn an affiliate commission. As an Amazon Associate we earn from qualifying purchases.
Learn More
Related Offers From Etsy.com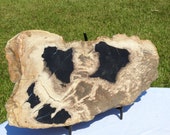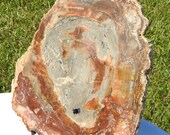 Features
Artisan-crafted serving board made from natural petrified wood
Bring natural beauty to sophisticated gatherings and everyday moments
Petrified wood is sliced and polished to emphasize its natural edges and organic patterns
Legs are made from wrought iron
Polished finishes provide added protection and accentuate natural features
Due to the natural materials used, each piece may vary in shape, color, and texture
Food safe
Two sizes available