Tulip Carrot Door Swag
This spring, attract the Easter Bunny to your home or just a herd of really confused rabbits with this cool new Tulip Carrot Door Swag. This whimsical door swag is shaped like a giant carrot that's crafted from faux orange tulips and topped off with sprigs of carrot-like greenery. It pairs nicely with these equally cool Gigantic Easter Eggs.
As an Amazon Associate I earn from qualifying purchases. When you buy through links on this site, I may earn a small affiliate commission.
Learn More
Related Offers From Etsy.com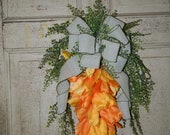 Features
Crafted with gorgeous faux tulips to create the look and shape of a carrot topped off with sprigs of greenery and a burlap bow
This swag is a clever wreath alternative for the spring season
Floral, carrot-shaped door swag
Faux tulips and carrot greenery
Burlap bow included
Arrives ready to hang; metal loop
Grapevine-rigid wire frame
Indoor/covered outdoor versatility
Size: 36" L x 16" W x 7.5" H - 2 lbs