Magical Flying Carpet Coffee Table
This cool new Magical Flying Carpet Coffee Table is a modern day homage to the legendary magic carpets that once roamed the Earth. Since they're now extinct, you can at least enjoy this pixelated replica that's trapped under under glass and seemingly floating above its shadow-like base. Unfortunately, a matching genie is not included nor does the flying carpet actually fly. Available in a variety of colors and sizes and pairs nicely with the equally cool Magic Flying Carpet Chair.
When you buy through links on this site, we may earn an affiliate commission. As an Amazon Associate we earn from qualifying purchases.
Related Offers From Etsy.com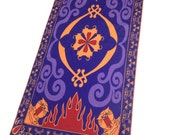 Subscribe To Our Cool New Newsletter! 😎
Get all the latest cool new stuff, cool news, and more delivered to your inbox daily!